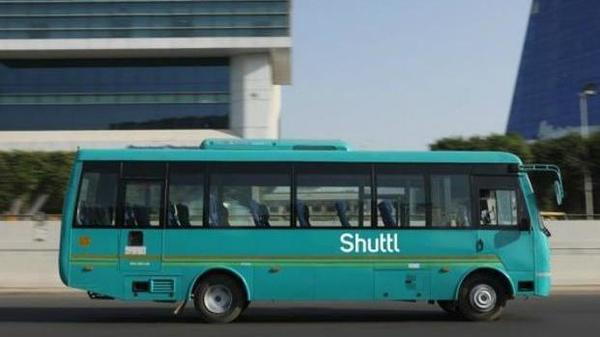 Is there a market opportunity for car owners willing to travel by bus? That was not the business model the founders of Shuttl had in mind. They first signed up with private bus owners for intercity services, where they assumed the market was. A few disappointing months later, with only a few takers, they had to find an alternative. They turned to commuters within the city. Having developed a basic ride-hailing app, they rented a car, and went from one crowded bus stand to another in Gurugram, peddling the service. That's what it took. Speaking to hundreds of people a day, convincing them that an A/C bus with a guaranteed seat was the better option. It took them months to get a few hundred rides going on a regular basis.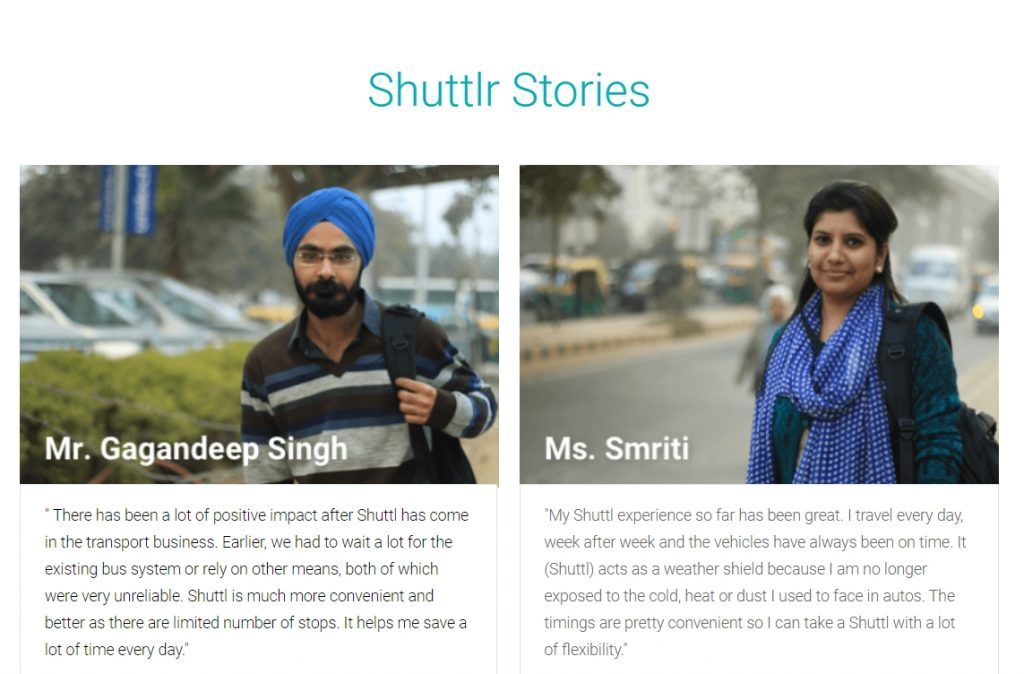 This part is missing or glossed over in startup success stories. Now, with over 1200 buses plying across 6 cities, it seems like the winning formula was there all along. But during the phase of identifying every prospect, making the case to switch over, it would have been terrifying. Money runs out, and even though it seems like a market need, hitting the required numbers is hard. Do founders dream of spending days visiting crowded bus stops? Or dealing with indifferent customers who have to be convinced and cajoled to try? And from the customers' point of view, why would they trust a company they had never known?
Getting the business model to work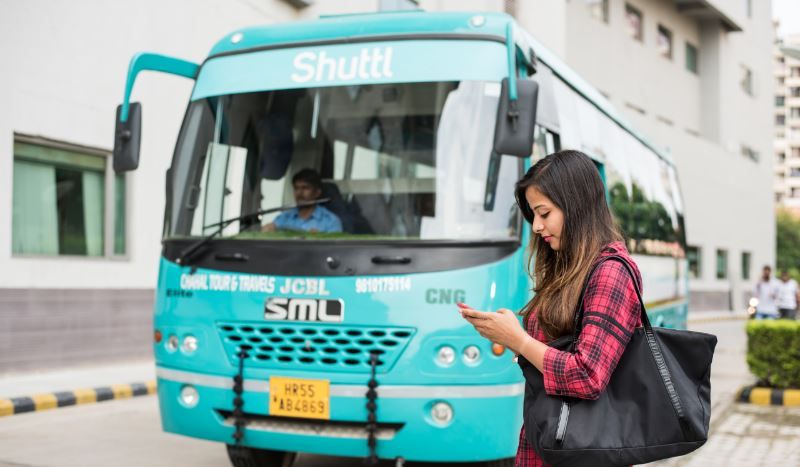 The government can deploy bus fleets without profitability as a priority. But in any private enterprise, the balance between capital available, cash flow and growth is a delicate dance. To get VCs interested, demonstrating growth is essential. And the ability to scale. That's where things get chaotic. Finding the right routes. Signing up with bus owners. Conducting safety checks and standards of operation to ensure that customers don't drop off or get dissatisfied.
Then, getting the technology right – without having to conduct training sessions for customers to use the app. Billing on the backend had to work seamlessly. The Shuttl app already has over 1 million downloads. It's the most awarded commute app. And it now covers all of India's major metros – Delhi NCR ( National Capital Region), Kolkata, Pune, Hyderabad, Mumbai, and Chennai, Bengaluru and Jaipur. The app claims that buses run every five minutes – which is wonderful if it is being achieved. App rating is 3.8 – not great certainly, but definitely above average.
The ticketing innovation
For authentication, Shuttl uses technology developed by Chirp, a company based out of UK. It's called Data over Sound – because existing technology like QR Codes did not work when the lighting was less than optimal and in peak time when people boarding had to be authenticated immediately. NFC (Near Field Communication) was not available on all mobile devices by default. 
From the article: Manual methods were deemed intrusive and unpleasant for the drivers and the customers.
"The need to talk to people, the need to check – it's not a very positive thing to do, to check people and their ID cards," Aggarwal says. Then Shuttl discovered Chirp, a British company that specializes in sending data over sound. Chirp describes its technology as a 'sonic barcode', and that 'with Chirp technology, data and content can be encoded into a unique audio stream – any device with a speaker can transmit a chirp and most devices with a microphone can decode them'.
Because the data is emitted by sound, it could work across the majority of devices used on Shuttl's buses, with passengers simply activating Chirp through the Shuttl app when they boarded. Both customers and drivers liked how easy it was to use and Shuttl began to roll out the technology across every route and fleet.
"When IT proposed this idea people didn't buy into it – that it wouldn't work," says Aggarwal. "In India, change is not very easy. But we rolled it out as a test scenario, and surprisingly our customers didn't mind it at all. It was very easily adopted and it worked on 90 percent of the devices we tested it on."
"Once our initial testing was done, it took us time to implement it because we had to train our drivers, who are not educated in most of the cases," Aggarwal explains. "But it was taken up very well – the drivers were relieved that it had come because their workload was reduced, and so this was quite an important step in our timeline."
Amazon on board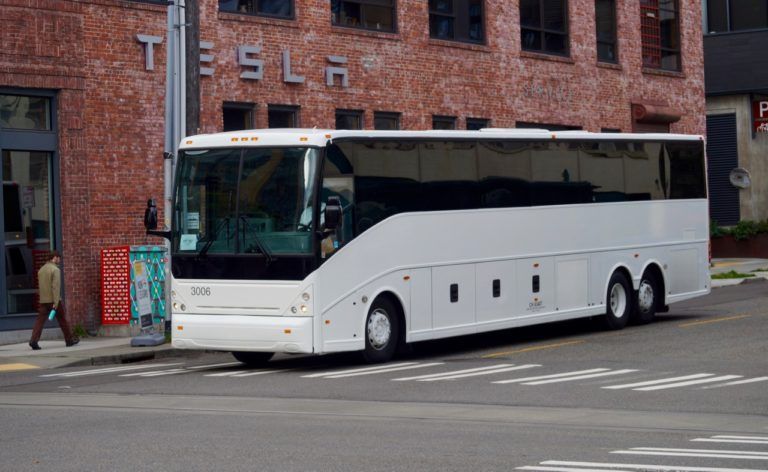 In 2018, Amazon invested $11 million in Shuttl. The decision makes sense when seen in the light of Amazon Ride, a service that Amazon is planning to implement across Seattle and ultimately, across the US, if things go well. In India, Amazon has the opportunity to sell to a captive Shuttl audience with a predictable routine of commuting to work and back.
Another interesting statistic. Shuttl's growth leads to cars actually going off Indian roads. From YourStory: "Commuting to work is difficult in our country given the state of traffic and limited public transportation in many cities. Close to 70 percent of traffic on Indian roads is made up by cars, but cars transport only 5-10 percent of the population" says Mohit Bhatnagar, Managing Director Sequoia, Capital. And this is borne out by Shuttl's own data. 58% of the riders are women going to work who find this to be the safe, secure and comfortable option
The brand story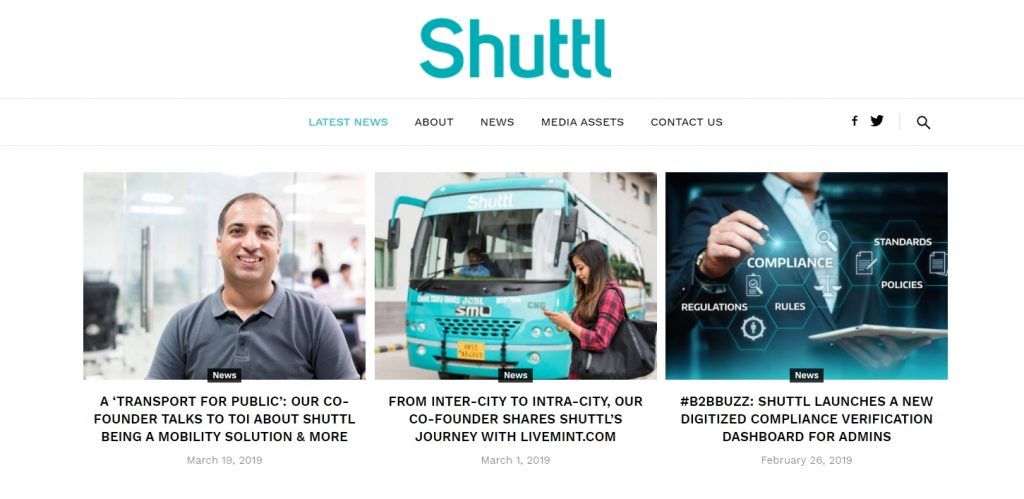 Shuttl has been low-key in comparison with Uber and Ola who are prominently featured in the media. Buses are not sexy. But Shuttl's growth shows public transport can be profitable when done well. And what is the problem that Shuttl solves? In one of his Tweets, Amit Singh, the co-founder sums it up: Flying is a problem of a few; fixed by books/podcasts. OTOH, long commute is a problem of many. 2.5 hours to-fro a day = 12 hours a week. That's royal waste of 52 days a year: driving in painful traffic. 52 days is the cost of not using Shuttl
To the people who use it every day, Shuttl is indispensable. The majority of Shuttl riders have shifted from cars to the service. They have tried all the existing options and this is the one compromise they are willing to live with. Not dropped at home exactly, but close. And that is a major benefit
If you'd like to read more brand stories, check-in or subscribe to our feed. Go back in time. And if you want to build your brand, begin a conversation by writing to contact@ideascape.in