The Bollywood Music Project is not what the name suggests – a compilation of playlists or archives devoted to decades of Indian film music. It is a festival, where contemporary artists come together and the audience distributes itself across two stages, wanders around, lounges, and listens to emerging and established voices in the Hindi film music industry.
As a brand, it is still evolving, being created by a combination of converging interests, exploration of the business model and a platform for discovery of talent.
The format is 16 hours of music over 2 days with each act going on for around 30-45 minutes. And a headline act towards the end each day for 90 minutes. Covers of older film songs are explored with just as much gusto as new sounds – but given that the audience is largely young, it is oriented towards current music that resonates with them now. It is an interesting experiment, where several different performers who have their own star power get together. The audience gets to immerse itself in multiple acts, discuss it with friends and soak themselves in the atmosphere. And the timing – from 2 pm to 10.30 pm is well within the curfew hours demanded by Indian parents.
Making a case for the brand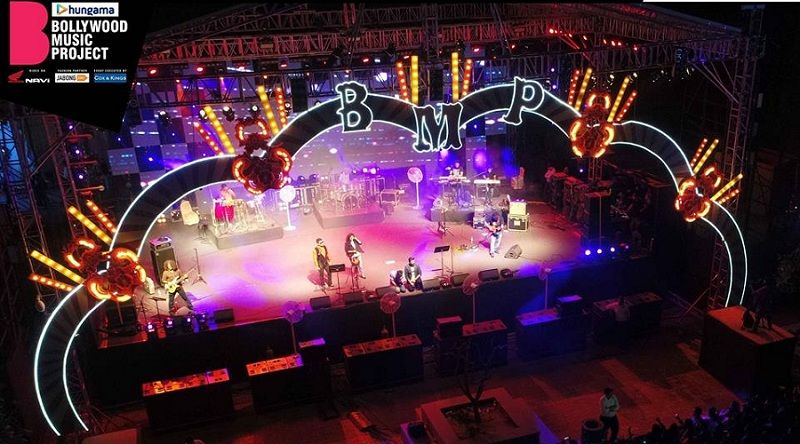 "80% of audiences in India listen to Hindi or Bollywood film music. There's no festival to celebrate the movement", says Tarsame Mittal, one of the promoters of the show."To figure out why it is not possible and should we do it or not, a surprising fact came into play. In a country where every style, how people dress, how they talk is all influenced by Bollywood – no one is prepared to pay for concerts! That's what we were told"
"I tied up with Event Capital and they brought in sponsorships and investments and my experience is curation, so I got into that. I was very fortunate to get the deal. When we started curating, the real picture emerged. Projections are always rosy, people say it is a sure thing, everything will happen on cue, sponsorships will roll in and we were told that we could sell 25% of the stake in the idea for Rs. 6 Crores (about $1 million) We were swimming in profits (in our dreams) and even had a party to celebrate! Then, the rejections began. And I had to tap deep into the goodwill I had generated with the artists, call favours in and ask them to take lower paychecks to keep the show on track"
Ego massages galore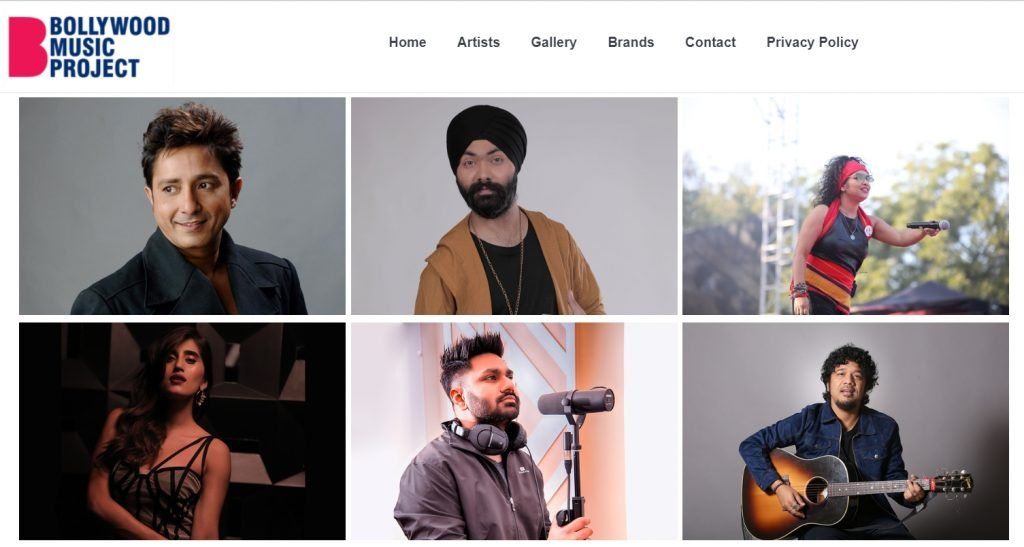 Tarsame Mittal goes on, "You think you can get 50 artists (singers, musicians) together and the show will happen. The biggest challenge is figuring out how many of them are willing to perform together. When we got into the planning, we realized this artist does not want to work with that artist. Then we had to get 'headliners' who occupy the most prominent slot in a festival on board. Every artist who is in the Top 50 wants to be the headliner – that meant we could only book two artists since those were the only slots available. And then we would not have had a festival!"
With only two performers, a festival makes no sense. When they finally managed to convince the whole set of performers, the next problem cropped up. There is an informal 'pecking order' in the industry based on where performers feel they are, career and influence-wise. The ones with the most experience want to be slotted later. It was hard to get people to open at 2 '0' Clock in the afternoon. Then, sponsors had their own demands and requirements which had to be accommodated. So, an event promoter has to be an expert ego masseuse as well. Convincing performers with fragile egos that they had got the perfect deal. And sponsors who need to be reassured about the mileage their brands would get from the event.
The website – work in progress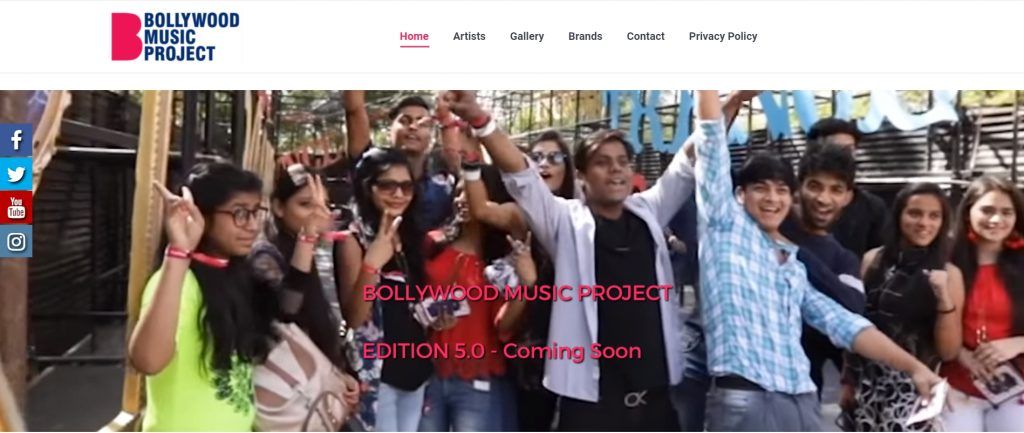 It looks like a patchwork quilt. The ideas are there but the brand has still not taken shape. The huge 'B' next to Bollywood Music Project in three lines has little finesse. All the videos on the site are edits of footage from the events, set to stock music. The promoters have had to walk gingerly between the agreements in place between the performers, their sponsors, the lawyers and the legal agreements that bind everyone in a tight grip.
The photos of the artists reflect that fine tension. A grid with the photos within. No one highlighted or played down. Room for maneuver is limited. Yes, some of the faces are recognisable but no one gets headlined here. When the brand evolves and is able to dictate some terms, the difference will be visible. Who gets to call the shots is a big thing in Showbiz. Razzmatazz has more politics than politicians!
The sponsor page is full of brands well known or otherwise. And some of the slots have evolved like corporate designations. The age of simple title sponsorship is over. Now you have a Writing Partner, Styled Partner, Vineyard Partner, a Hydration Partner (what else can you call the brand that supplies the MIneral Water!) and two mysterious categories – Romance Partner (what they provide is anyone's guess) and Happy Hours Partner (What are they doing at a music event?) Which begs the question – what happens when a condom brand wants a sponsorship title?
Some of the fun promotions
The up and coming artists do interesting things. Shalmali Kholgade, coffee cup in hand, jives with a couple of friends and asks people to come and watch her act. The setting of three girls jiving to a high-spirited number hits the high notes. With a direct appeal at the end.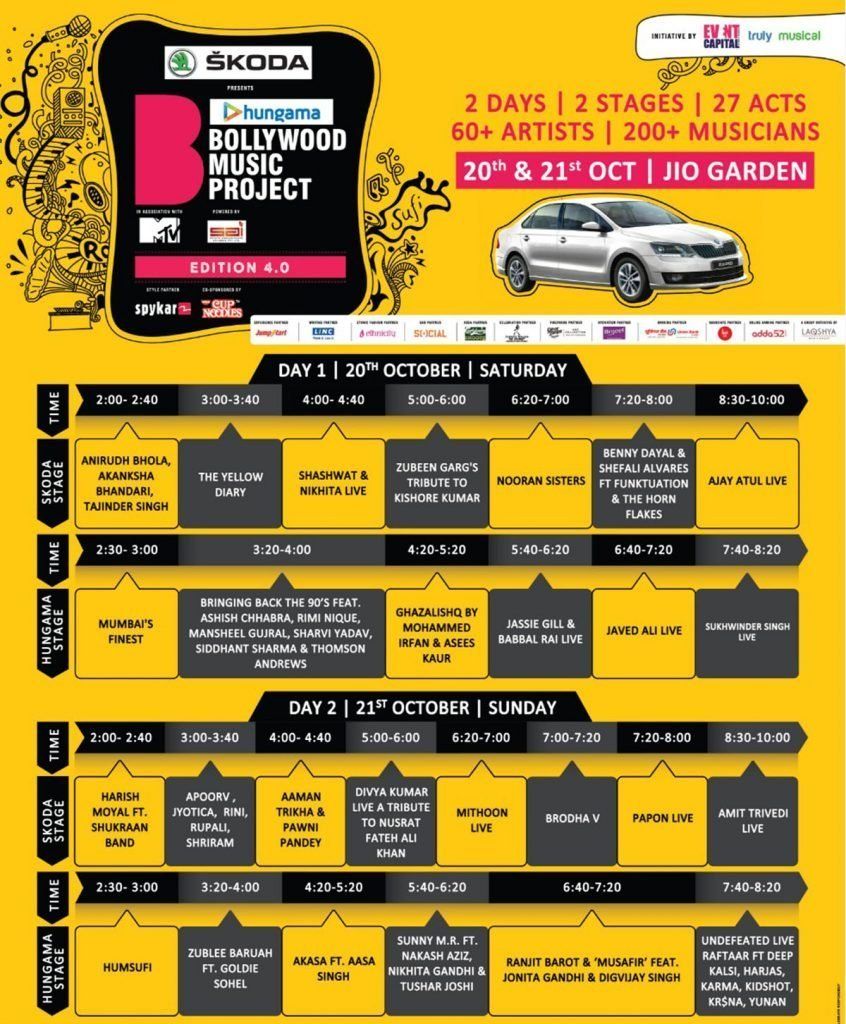 Rounding off with Tarsame Mittal's thoughts, loosely strung together, "The results of creating an IP (branded or trademarked) event are never what you expect. The most important thing is, How patient are you? How persistent are you? And how permanent are you? There is no guarantee. There is no process. There is no formula. What we have been able to achieve with the Bollywood Music Project is that artists ( performers) have started talking to each other. They feel it is possible. The audience feels that the first year we sold 'X' amount of tickets. Next year it is 'X'+ 20%…that it is okay to pay Rs.2000 to watch 50 artists. There can be collaborations on stage to drive people nuts"
For more insights and interesting stories on marketing, keep checking in on our blog. And if you're looking at brand-building, write to us at contact@ideascape.in