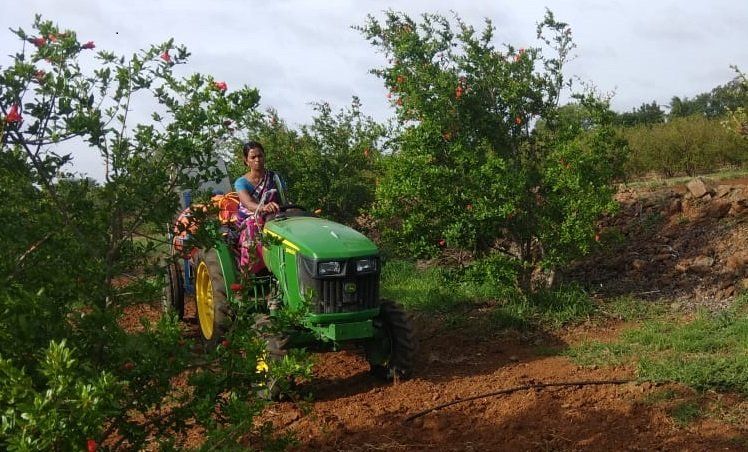 It is a problem that politicians, economists and policymakers have grappled with for decades. How can India's biggest sector get out of the vicious cycle of debt, reliance on unreliable monsoons and perennial poverty? Agriculture employs more than 50% of India's workforce but contributes to less than 17% of India's GDP. It is low tech, and for the most part, low yield.
Andrew Roberts, writing in Quora, sums it up succinctly – In 2015 India generated a Nominal GDP of $2,090,706,000, of which 16.1% was generated from the agricultural sector, or $336,603,666. This sum was generated from 138 million farms that average 1.33 hectares (3.29 acres) in size, but are the homes and principal source of income for 715 million. A simple calculation indicates the 58% of India's population is currently sustained through near subsistence agriculture and earned just $471 per head last year.
This is hardly the place where startups would see as a goldmine. And yet, because of its sheer size and room for improvement, it has had money, brains and an incredible amount of effort thrown at it. Seen from another perspective, it is a market with an upside of over 200 million potential customers – and that's where Shardul Sheth and his brother Sitanshu Sheth have been working since 2011
Agrostar is devoted to rural eCommerce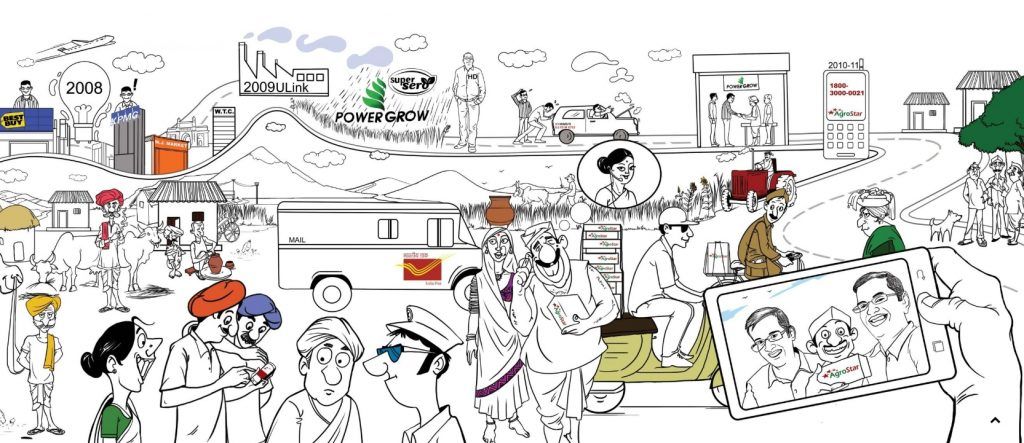 The problems were well-known. The solutions were hard to implement on the ground. How do you communicate in multiple languages with audiences across several states? How do you deliver orders to distant farmers that even the biggest network in India, the post office could not reach? How do you serve customers who have money only when the harvests are sold and no other source of regular income? How do you help them tide over these difficult phases? How do you build bridges and trust with highly suspicious prospects?
They could not be tackled one by one, so they figured things out as they went along. In one of their earliest attempts, they modified a pre-built CRM system to reach farmers – and then found that it needed an email address to process an order! The only 'technology' most farmers had access to was a basic cell phone, not even the smartphone. The way they solved the last mile problem was by building a delivery network through a franchise.  AgroEx currently handles 70% of the last-mile deliveries to the edges of their customer base. 
The missed call. A uniquely Indian solution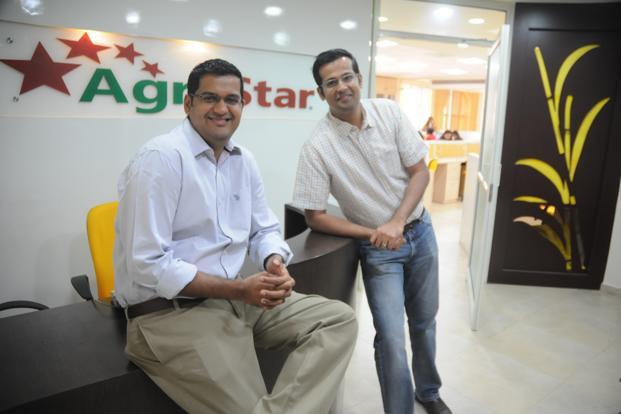 Several businesses in India have been built with the concept of a missed call – where customers dial in and hang up to have the company call them back. But to begin a conversation with farmers and to help them, they first had to get farmers to call in. The way the company managed this was to hand out red bags at local agricultural fairs to every farmer who called the number. This is detailed in an AgroStar blog post
It became a hotline for customers who began to call in increasing numbers every day, some as often as 30-40 times a month! They would call to inform, clarify doubts about product usage or even to figure out everything from weather forecasts to product prices to diagnosing crop problems.
Agrostar's call centres started back in 2016 marked the real growth phase of the company. They provided advice, consultation, and expertise for free employing teams of agronomists and graduates from agricultural colleges who could converse in the local language. The foundation of the company's data and its plans for the future were built by analysing the call records customers themselves provided, generating a mosaic of needs and requirements. Getting them to use technology was the next phase.
The first million is always the hardest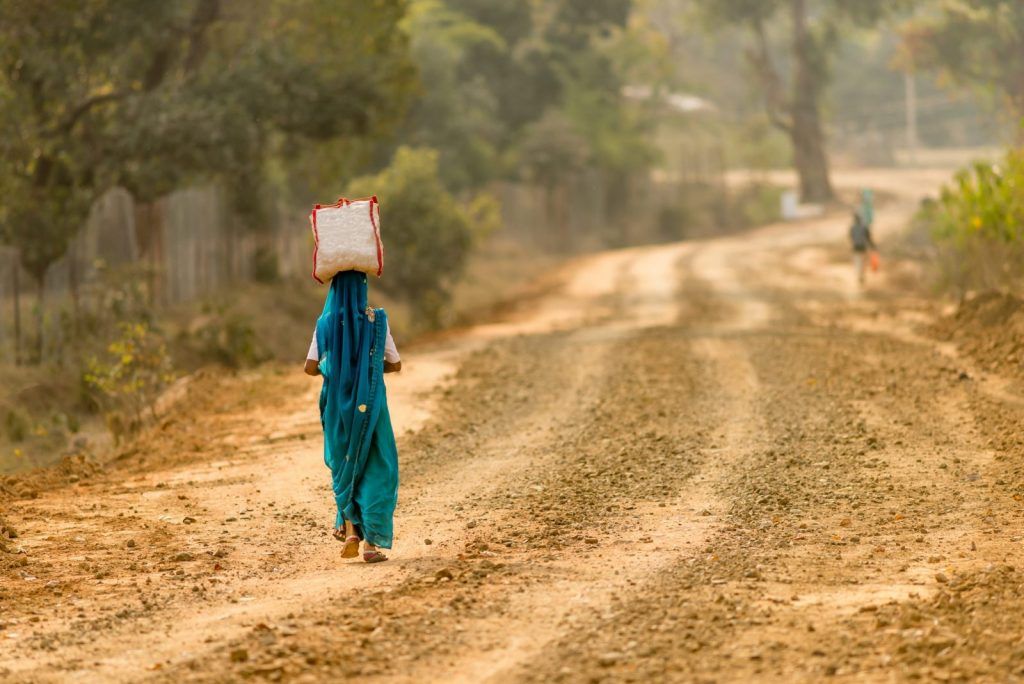 Building a community online is a tough task by every measure, so it is a credit to the tech team at Agrostar that they've built a popular AgriDoctor app on the mobile. Community members do pretty much the same thing that urban users do, except that their conversations and selfies are around their focused interests – crops and ways to increase productivity and occasionally, showing off with selfies! Here's one from a well-regarded member: 'Krishi Charcha' is one of India's largest online farmer communities used by over 2 Million+ farmers and is exclusive to farming-related discussions. Farmers use this medium to upload their crop queries through a picture of their crop to seek guidance from AgroStar's Agridoctors or fellow farmers or to share their thoughts on farming practices and crop management. They also use this platform to showcase their good harvest and sometimes upload selfies with their crops in the background.
The ability to rely on a trusted network does more for farmers' families and builds an ecosystem they can fall back on. Being able to communicate and share stories about their lives helps them expand their market while continuing to stay rooted in their communities.
Building a brand connect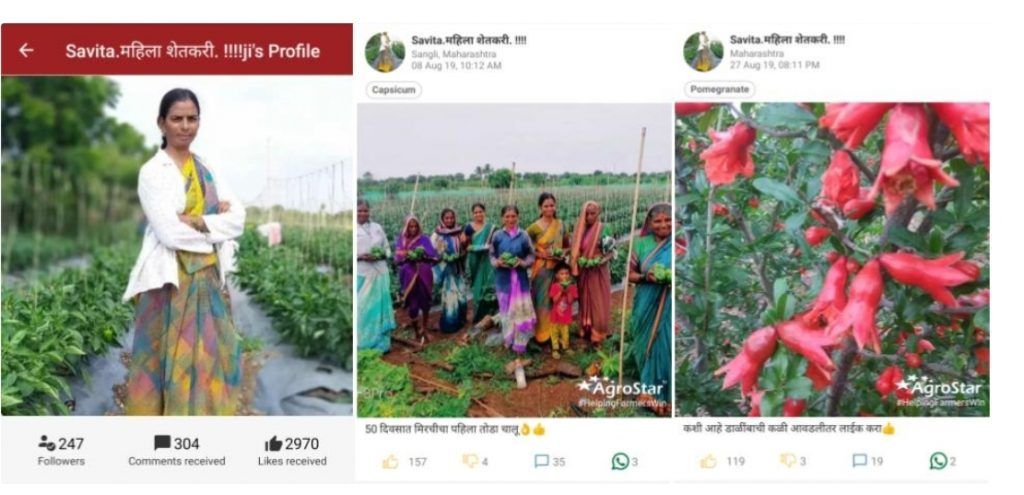 One of the initiatives that Agrostar has pioneered is to connect the agronomists and call center employees with the farmers they provide advice to. Visiting farms and seeing the effect that interactions have had is a powerful motivator and works both ways – it helps farmers connect a voice or a name to a person and in turn, employees see the results of their advice and hand-holding. Unlike support centres which are only about managing complaints, this is a two-way street that leads to a virtuous cycle of helping and building belief in the brand.
Most agricultural universities in India helped farmers in their immediate vicinity. Programs on Television were essentially one-way communication. And farmers could only access markets close to their villages. With technology, the distribution of information and farm produce can be widespread. How this will play out remains to be seen. The solution a few decades ago was to subsidise farming communities. But this is a model for self-sufficiency and growth. The speed with which the community has grown on the mobile app shows that business profits are powerful incentives. Data will only get cheaper with every passing year. And if Agrostar succeeds in expanding its base to its goal of 100 million farmers, the returns could be awe-inspiring.
Read Next: Is Marketing Branding? Or the other way around?
Or this: The Evolution of Brand Ayushmann
Author short bio: I head Ideascape, an agency that I started in 2004. I have over 35 years of experience building brands in businesses as diverse as payroll services, software, cycles, HR services, hospitals, hospitality and project management.
We're a boutique creative agency but we provide the full range of branding services in partnership with several associates in digital marketing, web development, and event management. This blog is a collection of my experiences and my point of view on marketing and advertising